Back to Collection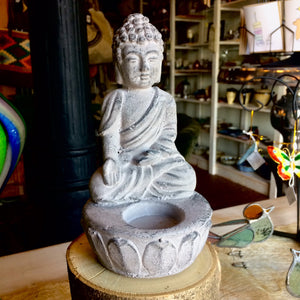 Regular price
Sale price
$30.00
Handcrafted Ceramic - China
The word Buddha means "awakened one".  "Buddha" is also used as a title for the first awakened being in a Yuga era. In most Buddhist traditions, Siddhartha Gautama is regarded as the Supreme Buddha of the present age. This beautiful votive holder is cast from clay stone dust and  finished with a antique patina.
Sitting Buddha. 7" Tall.

Similar products
Customers who viewed this item also viewed