Back to Collection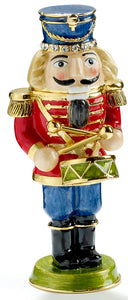 Regular price
Sale price
$75.00
Handcrafted from Enamel and Pewter
In 18th century Germany the term "nussknacker" appeared in the first dictionary of "High German" by the Brothers Grimm. Many different authority characterizations - even Napoleon were created as nutcrackers - but the popular soldier figures undoubtedly inspired the famous 1816 publication of E.T.A. Hoffmann's fairy tale "Nussknacker und Mausekönig." Hoffmann wrote of Clara's soldier nutcracker: "Under the Christmas tree a very excellent little man became visible that stood there still and modestly. He waited as if they would all come to him." Hand crafted pewter with crystals.


Size: 3-1/4"x 1-1/2"
Similar products
Customers who viewed this item also viewed