Back to Collection
Fez Moroccan Mint Green Tea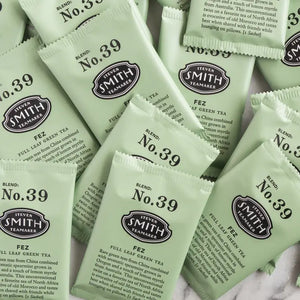 Fez Moroccan Mint Green Tea
Regular price
Sale price
$1.10
Rare green teas from China combined with aromatic spearmint grown in the Pacific Northwest and a hint of lemon myrtle from Australia. Fez artfully evokes old Morocco, and tastes best when shared with friends while lounging on pillows. Ingredients: Spring harvested full leaf Mao Feng China green tea, Pacific Northwest spearmint leaves and Australian lemon myrtle. TASTING NOTES: Fall squash, lemon, mint. 
Made by: Steven Smith Teamaker
Made in: Portland, OR
Further Reading: Smith tea bag sachets are made from a plant-based material that is GMO-free, biodegradable, and free of glue or staples. 
Similar products
Customers who viewed this item also viewed