Back to Collection
Silver Sand Dollar Bracelet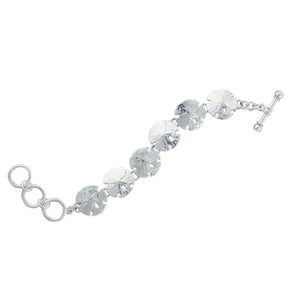 Silver Sand Dollar Bracelet
Regular price
Sale price
$285.00
Charles Albert - Florida

Beautifully crafted, this striking sterling silver bracelet is inspired by the sea. Featuring 6 silver sand dollars. The mythological legend of the Sand Dollar claims they represent coins lost by mermaids or the people of Atlantis, the mythical city that sank below the ocean millennia ago. Beautifully crafted from fine sterling silver by the noted jewelry designer Charles Albert. Adjustable.

Details: Sand dollars: 24mm. Fits wrist sizes 7.75" - 9". Signed/hallmarked. Handcrafted in .925 sterling silver by artisans in Mexico.
Similar products
Customers who viewed this item also viewed