Back to Collection
Widow's Mite Bronze Coin Cross Necklace 103-76 BCE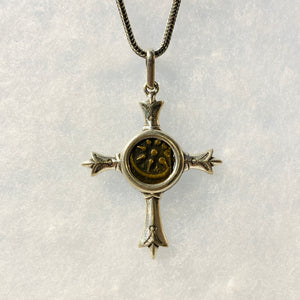 Widow's Mite Bronze Coin Cross Necklace 103-76 BCE
Regular price
Sale price
$204.00
Beautifully crafted sterling silver cross necklace with authentic ancient coin by California jeweler Erez Epshtein. 16" chain with 2" extender.

This coin is also known as the Widows Mite and mentioned in the New Testament. (See more history below) Obverse of the coin is a Macedonian star and the reverse is an anchor. Coin dates: 103-76 BC.
HISTORY: The famous "Poor Widow's Mite" bronze leptons of Alexander Jannaeus (103-76 BC.) He became ruler of the Jews in 103 BCE and was young and ambitious ruler.
The coins are symbolic in the history of Christianity and mentioned in the Bible in the new testament where Jesus sat down opposite the place where the offerings were put and watched the crowd putting their money into the temple treasury. Many rich people threw in large amounts, but a poor widow came and put in two very small copper coins, worth only a fraction of a penny. They are referred-to in the Gospel of Luke 21:1-4. "And he looked up, and saw the rich men casting their gifts into the treasury. And he saw also a certain poor widow casting in thither two mites. And he said, Of a truth I say unto you, that this poor widow hath cast in more than they all: For all these have of their abundance cast in unto the offerings of God: but she of her penury hath cast in all the living that she had." Although the Mite was minted during the 1st Century BC,  it was widely circulated during the time of Christ. This is the origin of the term 'Widow's Mite"

Similar products
Customers who viewed this item also viewed