Back to Collection
Ruby & Garnet Toggle Necklace AE Mesebria 250 BCE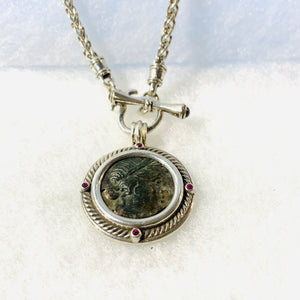 Ruby & Garnet Toggle Necklace AE Mesebria 250 BCE
Regular price
Sale price
$528.00
Beautifully crafted sterling silver toggle with authentic ancient coin by California jeweler Erez Epshtein. 16" with 2" extender. With natural rubies and garnets.

Mesambria mint. Obverse diademed Artemis head right; Reverse "METAM/BPIANΩN" Athena Alkidemos advancing left, shield on right arm, brandishing spear in left hand.
History: Artemis ruled Macedonia under Rome rule during 158 – 149 B.C.  She came to power as a young youth and ruled through maturity.   Artemis in Greek mythology was the daughter of Zeus and of Leto and the twin sister of Apollo.  She was one of the most widely venerated of the gods and manifestly one of the oldest deities.  In later times she was combined with the Roman goddess Diana. In Etruscan mythology, she took the form of Artume. Deer and cypress are sacred to her, and she is often portrayed with her silver bow and arrow. 
Athena, shown with a spear and a shield on the reverse of the coin was one of the most important goddesses in Greek mythology. She sprang full-grown and armored from the forehead of the god Zeus and was his favorite child. The Parthenon, in Athens, became hers as a result of her gift of the olive tree to the Athenian people. Paired here with the profile of Artemis on the obverse, the coin is 
The city  from which this coin originated is named Mesembria, which was a Doric settlement on an island at the Black Sea coast. Today a man-made isthmus connects it to the mainland. The modern name is Nesebar, an important seaside resort. Several ancient churches and ruins are preserved on the peninsula.
Similar products
Customers who viewed this item also viewed